I'm a big fan of not pushing formal reading and math education too early. Just as with potty training, reading is one of those things that can take years of agony and burnout, or be picked up quickly when the time is right (with many exceptions, of course)! Before we start formal education at age 6, we are only working on reading when the interest is there. If she is tired of lessons, I don't push it. This time is all about building a love of learning. (We do work on habits of doing chores that you don't feel like doing, just not in the area of reading.) That being said, lately this kiddo is determined to read! She is often upset and mad that she can't read the words and asks me to teach her how, so we've been working on reading skills in earnest while we have this surge of interest! I've been doing lots and lots more research on how to teach it! In general, the base of all pre-reading skills involves reading aloud often and talking about the books as you read. We already do plenty of that. The basic technical skills needed in order to start actually reading are
Knowledge of uppercase letters
Knowledge of lowercase letters
Knowledge of letter sounds
The ability to physically write letters may develop at a different speed, so we aren't slowing down our reading progress by trying to coordinate the two skills. These are a few of the letter activities we've done recently or plan to do very soon! I've only posted those that require a minimum of supplies or prep work. I avoid really complicated activities because, let's be honest: I won't actually get them done. Anytime we do an activity, I mention the letter sounds that each letter makes.
There are a few basic types of activities here:
Activities where you find a letter, step on a letter, wash a letter, etc. As your child finds the letter, tell them what letter it is and what sound it makes. As they begin to know most of the letters, you can ask them what letter it is and/or what sound it makes. There are 26 letters in the alphabet, which means it's easy to get bored with any activities that involve all of the letters! You might try doing A-F in one activity and then G-L for the next activity on another day and so on, if your kid gets bored. As they learn most of the letters, you can start putting in just the letters that they struggle to remember! You can make up your own variations on these. If you have ABC blocks, foam letters, puzzle pieces, flash cards, magnets, etc. you can simply hide them around the room.
Activities where you match letters. Start with activities that involve matching uppercase to uppercase and lowercase to lowercase. Then move on to matching uppercase to lowercase. You can do a letter puzzle, put stickers on letters, ABC magnets on dry erase letters, foam letters on chalk letters, etc. You can match uppercase flashcards to lowercase flashcards. Use whatever you've got!
Uppercase Letters
Alphabet Find
This was one of our first ABC activities. I printed out letters and taped them up all over the room. She would get so excited to find one and bring it to me so I could tell her what letter it was.
Foam Letter Dig
Get those Munchkin foam ABC bath toy letters and mix them into some dirt or sand like this:
Letter Stickers
If you can find some big letter stickers, print out something like these printable alphabet cards and put the stickers on the letters.
Goldfish Letters
Because what toddler doesn't love to eat goldfish while learning letters?!
Alphabet Bingo
Uppercase and Lowercase
Alphabet Magnet Matching
Print out these alphabet pages and match your magnets to the page! I printed her lowercase and uppercase (elsewhere on the site) pages and we did both. You could also do as pictured and put the uppercase magnets onto the lowercase letters and vice versa.
More Magnet Matching
You can also draw on a cookie sheet or magnetic dry erase board (or even possibly your fridge, depending on the type–do a test!) and then match the ABC magnets to those letters.
Letter Mazes
There is one letter maze for each letter of the alphabet. I printed them all out. I point out the letter we are looking for and mention the sound it makes. We use a different marker or pen for each. Sometimes we use a "do-a-dot" marker as pictured. Sometimes we use Chunkies Paint Sticks. Sometimes we circle them or color them with crayons. I let her simply find all the letters and then I point out at the end that it connects. She's a little young to do them all in order. Older kids could draw a line the whole way.
Upper and Lowercase Rainbow Puzzle
Print out this puzzle and laminate the pieces! This is great for learning which letters go together. I will put out five or six letters at a time for her to match. Doing the whole alphabet at once would be overwhelming. Once you start noticing which letters are a struggle, put out those more often!
Erase the ABCs
Just write on your window or mirror with a dry erase marker.
Alphabet Bean or Rock Matching Game
This is a great idea! Use beans or rocks or come up with your own variation. You could also draw letters on paper and match ABC blocks or Munchkin foam bath letters or magnets.
Chalk Alphabet Games
Write letters in chalk, like this: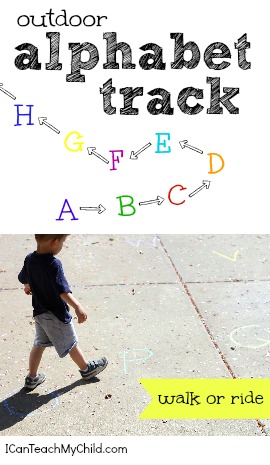 Indoors Version
Sort Uppercase and Lowercase Letters
You could do this or some non-water variation: